2017 OC Cinema Camp Starts Tues., June 27
@ Delhi Community Center
Download Registration Form! Scholarships Available!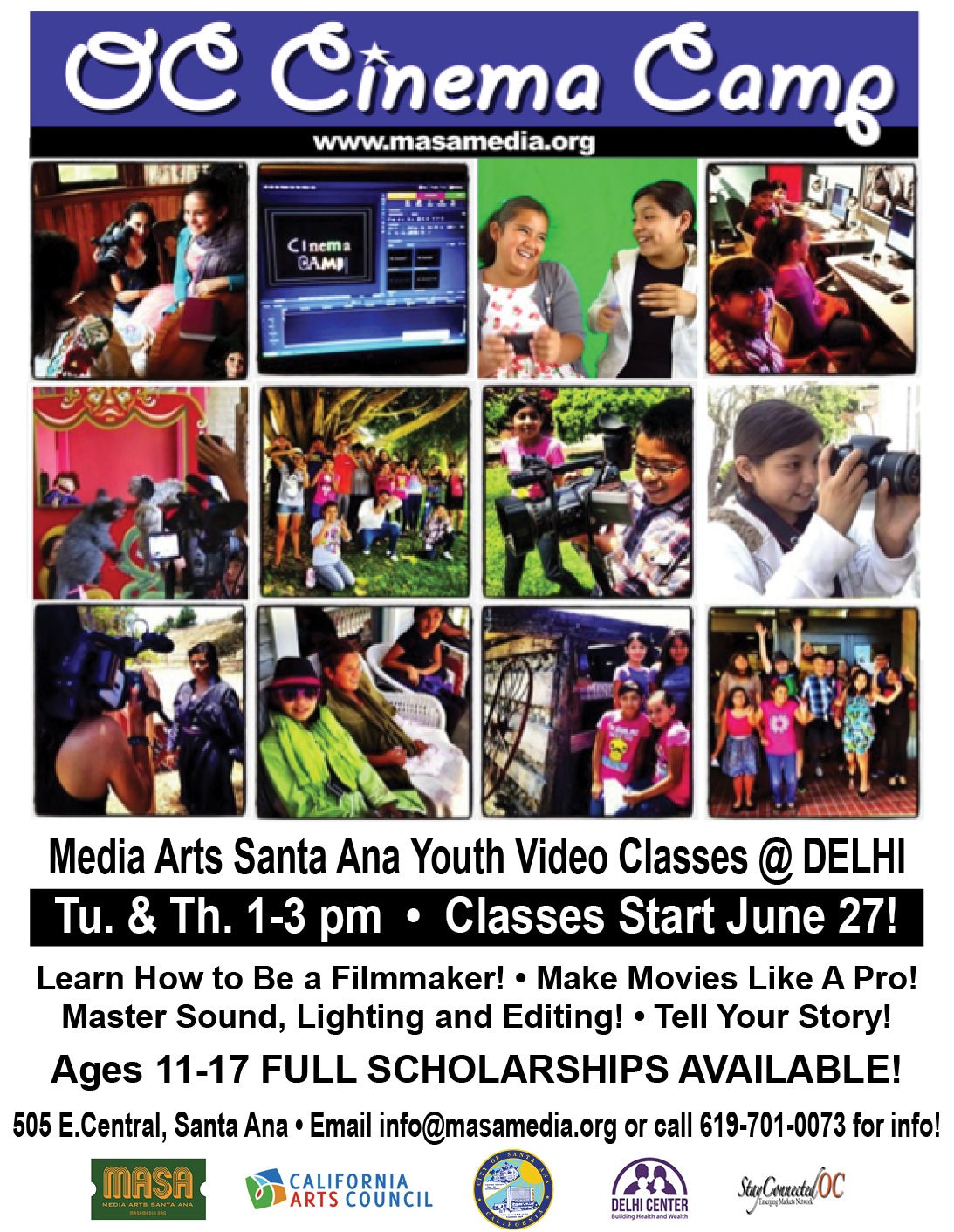 Launched in 2013, the OC Youth Cinema Camp provides creative as well as technical instruction to teach the art of digital production, creativity and historical storytelling.
Led by award-winning filmmakers Pocha Peña and Victor Payan, this dynamic program combines silent cinema techniques with digital technology to inspire the creation of new films set in Orange County's past.
The first OC Cinema Camp was held at the Heritage Museum of OC and the Bowers Kidseum, and was made possible with support from the OC Arts Initiative grant.
 
"Orange County has a rich heritage that includes visits by many film stars, such as Charlie Chaplin, Rita Hayworth and Bebe Daniels," says Peña.  "We strive to teach our students to create new narrative voices rooted in their community's unique history."
 
Films from the Cinema Camp will screen during the OC Film Fiesta, a three-week cinematic celebration of Orange County's diversity held in downtown Santa Ana, as well as at the Bowers Museum.
The OC Cinema Camp will teach skills in:
Filming
Digital Storytelling
Acting
Lighting
Editing
Audio Recording
Silent Movies
Creating Fun Videos
In addition to participating in fun and engaging instruction in digital cinema, students will also learn valuable leadership, teamwork and career skills from award-winning instructors.
Space is limited to 20 students, so please complete and return the application form at your earliest convenience to secure your child's spot in this year's Cinema Camp.
Do not hesitate to contact me at 619-701-0073 or This email address is being protected from spambots. You need JavaScript enabled to view it.  if you have any questions.

The OC Cinema Camp is a program of Media Arts Santa Ana (MASA) and is made possible with support from the California Arts Council, City of Santa Ana, Delhi Community Center and Stay Connected OC.
Media Arts Santa Ana (MASA)is a project of Community Partners, a 501(c)(3) non-profit organization.
Click Here to Make a tax-deductible contribution to support MASA's work.
For more information about supporting the 2017 OC Cinema Camp, please email This email address is being protected from spambots. You need JavaScript enabled to view it. or donate via the link below
Help us provide free youth media classes in Santa Ana!
Click below to make a secure, tax deductible contribution in support of our work!