The SanArts Sundays Screenings are being rescheduled for a future date. Please visit our website or Facebook page for updated information.
Please join us next week for screenings at the Heritage Museum of OC Museum, Bowers Museum and new Oct. 30 screenings with special guest actor producer Jesse Borrego!
Thank You!
Friday, Oct. 28 - FREE!
The Book of Life
@ Heritage Museum of OC

10-28-2016

8:00 pm

-

9:25 pm
Dir. Jorge Gutierrez, 2014, USA, 98 min.
In the Mexican town of San Angel, Manolo (Diego Luna), Maria (Zoë Saldana) and Joaquin (Channing Tatum) have been friends ever since childhood. Although their lives have taken different paths -- Maria was sent to Europe, Joaquin joined the military, and Manolo studied to become a bullfighter -- one thing remains the same: Manolo and Joaquin both want to marry Maria. Little does the trio know that battling husband-and-wife deities have made a high-stakes wager on the love triangle's outcome.
Saturday, Oct. 29
Female Icons of Silent Cinema
@ Bowers Museum

Wara Wara
$10.00 General / $5 Students, Santa Ana Residents and Military


Dir. Jose Maria Velasco Maidana, Bolivia, 1930, 69 min.
Don't miss this special OC Film Fiesta screening of Bolivia's sole surviving silent-era film. This timeless love story set during the Spanish conquest was thought lost for decades, but was rediscovered in 1989 and restored over the course of a decade. This fascinating film was written and directed by Jose Maria Velasco Maidana, an influential Bolivian filmmaker, composer, conductor and artist who was married to American painter Dorothy Hood; and stars important members of La Paz's early 20th Century artistic community including master painter Arturo Borda as an indigenous priest, avant-garde poet Guillermo Viscarra Fabre as an Inca leader and renowned sculptor Marina Nuñez del Prado as a young Quechua princess. Presented by Media Arts Santa Ana (MASA) in association with the Bowers Museum and the Cinemateca Boliviana.
Tepeyac
10-29-2016

3:00 pm

-

4:30 pm
$10.00 General / $5 Students, Santa Ana Residents and Military

Dir. Carlos E. Gonzáles, José Manuel Ramos y Fernando Sáyago, 1917, Mexico, 58 min.
Silent film with original live score by Camarata Santa Ana
A man (Arroyo Carrillo) is sent to Europe on a diplomatic mission. The ship in which he travels is sunk by a German submarine. In Mexico, his girlfriend Lupita (Cota) receives a telegram with the news and looks for relief in La Virgen de Guadalupe, saint patron of catholic mexicans. After reading a book about the Virgin legend, Lupita falls asleep. Next morning, she receives good news, her boyfriend is alive. Together they go to La Villa del Tepeyac (a church devoted to La Virgen de Guadalupe) and thank for the miracle.
Presented in association with the Mexican Consulate in OC, Bowers Museum and Filmoteca de la UNAM.
Joan of Arc
10-29-2016

5:00 pm

-

6:40 pm
$20 General / $15 Members and Film Fiesta Pass Holders


Dir. Carl Dreyer, 1928, France, 114 min.

Join us for an eclectic evening of art, music and Film Noir at the Bowers Museum. We will be screening the 1928 silent film 'La Passion de Jeanne d'Arc' with a live score mix of chant, string quartet and electronic percussion. Before the performance begins, catch a pre-show lecture about the making of the film and explore our special exhibition Virgin of Guadalupe: Images in Colonial Mexico. Enjoy a delicious dinner presented by Tangata or just sip on some wine! It's Halloween weekend so, Film Noir costumes are welcomed and encouraged!
Sunday, Oct. 30 - FREE!
Jesse Borrego
@ Beatnik Bandito Music Emporium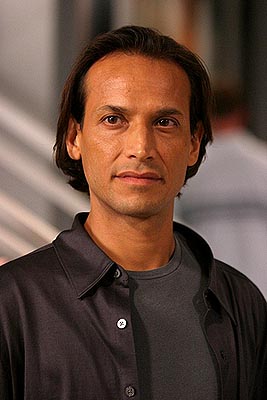 Spend some quality time with acclaimed actor/producer Jesse Borrego (Fame, La Mission, Blood In Blood Out) as we transform Beatnik Bandito into a microcinema for a special 1pm screening of the 1942 Mexican classic film La virgen que forjo una patria starring silent movie giant Ramon Navarro; and the fantastic music documentary Las Tesoros de San Antonio, at 3:30pm, which is produced by Borrego.
Then, stay for a San Antonio-style Sunday Tardeada & jam session featuring the melodious sounds of Echo Sparks!
Come for the films and stay for Main Place Mall's Restaurant Week, featuring discounts and Prix Fixe meals at participating restaurants, such as Applebee's, California Pizza Kitchen, Boudin SF, Lucille's Smokehouse BBQ, Wokcano Asian Restaurant & Bar, Panini Cafe, Genki Sushi, Poke-Ria, and Saigon De Pho. Plus, enter for your chance to win a $1,000 MainPlace Mall shopping spree!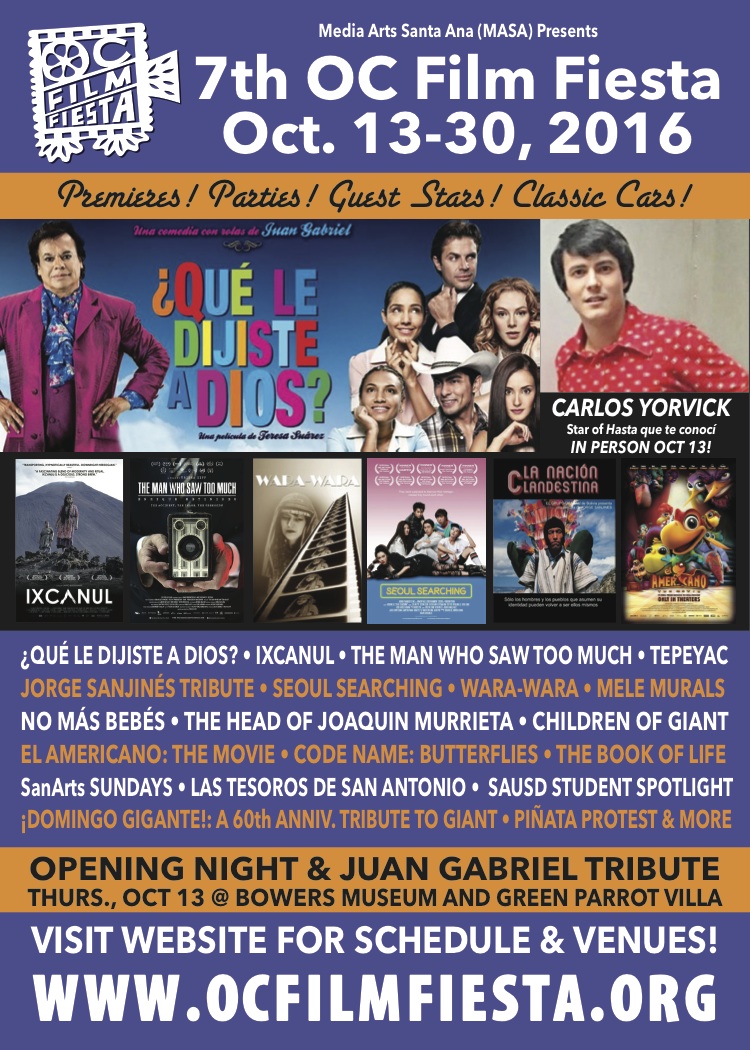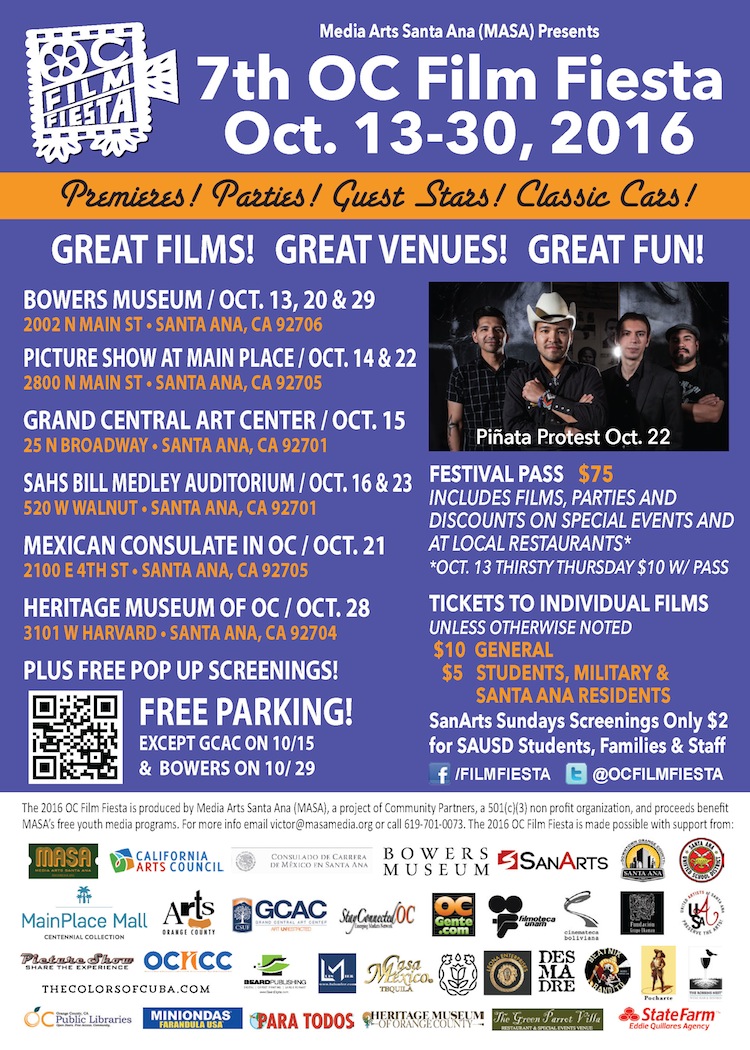 Proceeds benefit MASA's free youth media programs, the OC Teen Cinema Camp and the Youth Murals and Media Class. Support for the OC Film Fiesta is provided by the California Arts Council, Mexican Consulate in OC, Bowers Museum, City of Santa Ana, OC Hispanic Chamber of Commerce, SAUSD, SanArts, Green Parrot Villa, Arts OC, Stay Connected OC, Pocharte, Beard Publishing, OC Public Libraries, Cervantes Publishing Company/Miniondas Farandula USA, Para Todos Magazine, OC Gente, United Artists of Santa Ana, Eddie Quillares State Farm Agency, Ollin Consulting, LuisMier.com, The Robbins Nest Restaurant and Wine Bar, Casa Mexico Tequila, Monte Xanic Bodega Vinícola and Leona Enterprises.
FESTIVAL PASSES ON SALE NOW!
ONLY $50 GET YOURS TODAY!


Buy Thirsty Thirsday tickets and film-only tickets at www.bowers.org