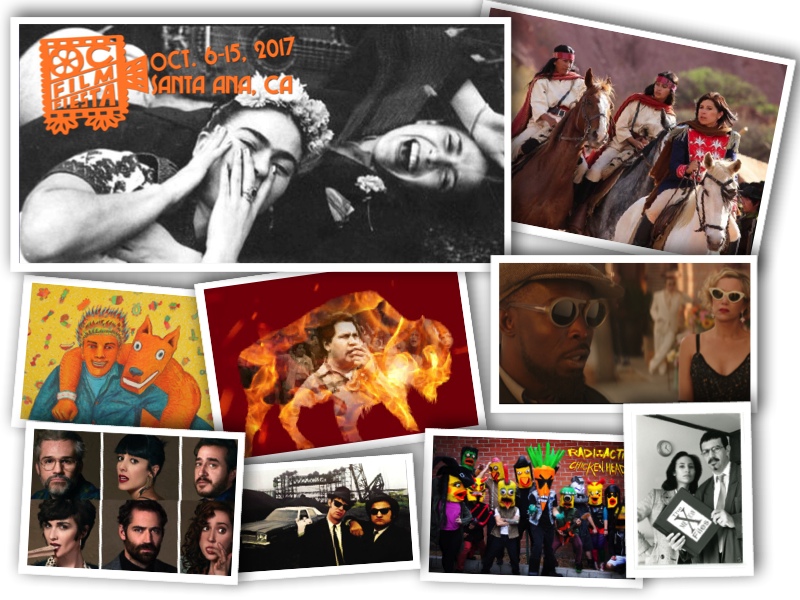 2017 OC FILM FIESTA SCHEDULE
FESTIVAL PASS ONLY $75! INCLUDES PRIORITY SEATING TO ALL FILMS AND ENTRY TO PARTIES! CLICK HERE
FRI., OCT 6                                      
Picture Show at MainPlace Mall
2800 N Main St.
Santa Ana, CA 92707
8pm            CHAVELA *OC Premiere BUY TICKETS
10:30pm     Afterparty at Applebees featuring Tequila Tasting with La Tequilera BUY TICKETS
                                                          
SAT., OCT 7           
Picture Show at MainPlace Mall
2800 N Main St.
Santa Ana, CA 92705

11:45am    A Day with Sergio Arau and Yareli Arizmendi: 20 Years of ADWAM BUY TICKETS
1:15pm      Surprise Film
3:30pm      Juana Azurduy: Guerrillera de la Partia Grande *US Premiere of New Film by Bolivian Master Jorge Sanjinés BUY TICKETS
6pm           La vida inmoral de la pareja ideal *OC Premiere BUY TICKETS
8pm           The Rise and Fall of The Brown Buffalo w/ Director Phillip Rodriguez *OC Premiere BUY TICKETS

SUN., OCT 8                                    
Santa Ana College Main Art Gallery
1530 W.17 St. Bldg "C"
Santa Ana, CA 92706

VISIONS OF MAGULANDIA: THE CALIFORNIA JOURNEY OF CHICANO ARTIST GILBERT 'MAGU' LUJAN FROM LOS FOUR TO MENTAL MENUDO
This Event Is Free and Open to the Public. Parking $2. RESERVE SEATS
1:00pm       Rare and Unseen Video Footage
2:00pm       Panel Discussion featuring Hal Glicksman, Josie Talamantez and Nauche Lujan        
3:30pm       Refreshments
4:00pm       Mental Menudo - take part in one of Magu's legendary community discussions
This project was made possible with support from California Humanities, a non-profit partner of the National Endowment for the Humanities. Visit www.calhum.org.
FRI., OCT 13
Heritage Museum of OC
3101 W Harvard St
Santa Ana, CA 92704         
This Event Is Free and Open to the Public.
7 pm           Orson Welles' The Magnificent Ambersons 75th Anniversary Screening RESERVE SEATS
                                                         
SAT., OCT 14
OC Musicians' Association Local 7
2050 Main Street
Santa Ana, CA 92707
12:00pm    Radioactive Chicken Heads Children's TV Pilot Premiere BUY TICKETS
2:00pm      Los Wild Ones BUY TICKETS
3:30pm      Greetings from Tim Buckley BUY TICKETS
5:30pm      The Blues Brothers John Belushi and Dan Aykroyd on a mission from God BUY TICKETS
8pm           The Spoils Before Dying w/ Writer Andrew Steele (SNL/Casa de mi Padre) BUY TICKETS
10pm         Festival Party BUY TICKETS


SUN., OCT 15
TACO TRUCK CINEMA
Venue TBA
This Event Is Free and Open to the Public.
7pm            Special Pedro Infante Centennial Tribute Screening
Tickets are $10 General / $5 Students, Teachers, Military/Veterans or Santa Ana residents unless otherwise noted. Parking at venues is free unless otherwise noted.
Tickets are available online or at the door.