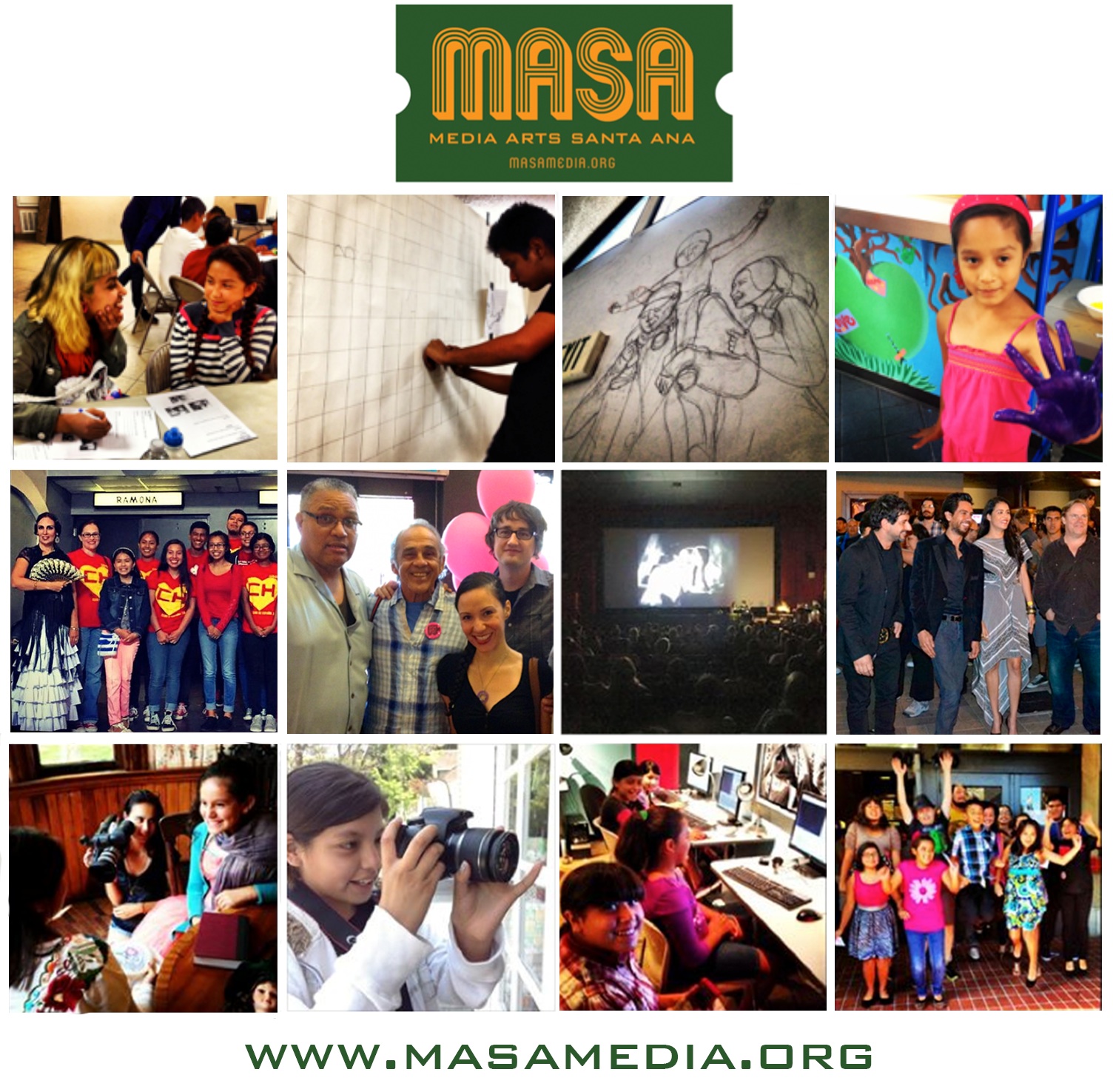 Celebrating its 7th year in 2016, the OC Film Fiesta is a cinematic celebration of Orange County's diversity and multicultural heritage. The Film Fiesta is produced by Media Arts Santa Ana (MASA). MASA inspires the growth and development of Media Arts in Santa Ana by providing local residents access to technology, cinema, instruction & advocacy.
Launched in 2010, the OC Film Fiesta has presented world premieres, award-winning films, community celebrations, workshops and guest filmmakers from The Simpsons, East Los High, The National Center for Jewish Film, Chapman University and Gael Garcia Bernal and Diego Luna's Ambulante documentary project. Special guests have included Miguel Rodarte, Yareli Arizmendi, Hector Jimenez, Kevin McKiernan and Inocente Izucar from the Academy Award-winning documentary Inocente.
The 2016 OC Film Fiesta features special partnerships with the Mexican Consulate in OC, the Santa Ana Unified School District's new SanArts Conservatory, Bowers Museum, Heritage Museumof OC, the OC Hispanic Chamber of Commerce and local merchants and restaurants to promote the cultural life of downtown Santa Ana.
A program of Media Arts Santa Ana (MASA), the OC Film Fiesta is a community-building celebration that provides Orange County's diverse audiences with entertaining events that deepen relationships between local cultural groups, businesses, colleges, visitors and the film industry.
In addition to presenting quality films and workshops through the Film Fiesta, MASA also provides free media arts instruction for local youth through our core programs, the OC Cinema Camp and the Mural and Media Class.
Media Arts Santa Ana (MASA) is a project of Community Partners, a 501(c)(3) non-profit organization, and donations are tax deductible. Proceeds from the Film Fiesta help support MASA's free youth media programs 
Join us for this year's OC Film Fiesta, and be part of a dynamic multicultural cinema cel­­­ebration in the historic heart of OC that promotes cultural vitality through high-quality programming and community engagement. For more information, email This email address is being protected from spambots. You need JavaScript enabled to view it. or call Film Fiesta Director Victor Payan at 619-701-0073.
CLICK HERE to support MASA and the 2016 OC Film Fiesta with a tax deductible donation.